Twenty Questions
---
Are you a food addict?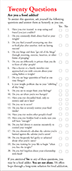 If you are wondering whether or not you are a food addict, your answers to these twenty questions will help you get clear and determine if FA might be right for you. It also explains FA and how to get more information.
Preview the Twenty Questions Card here.
Language: English
L-02 $0.40 each