Membership Survey and Statistics
---
What we know about members of the FA fellowship
The most recent survey of the FA fellowship was conducted from May 24 through September 19, 2016. FA members from 26 countries participated in the survey including, in the US, 46 states, D. C., and 2 territories.
4,238 members total took part in this survey.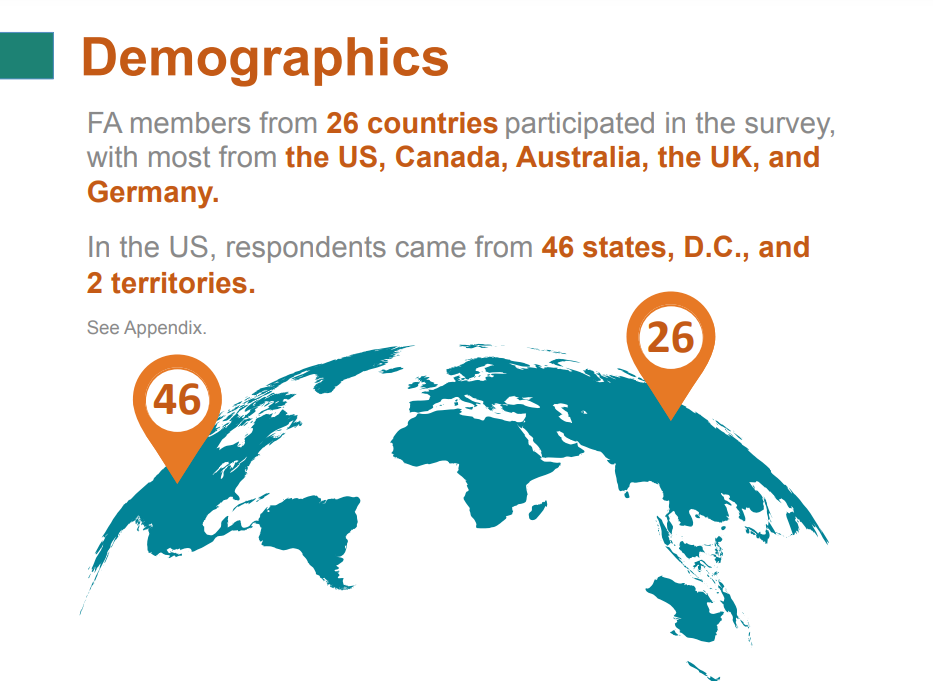 Demographics
Racial identity:
75% Caucasian or White
13% African American or Black
3% Latino or Hispanic
8% Distributed over other categories including: Asian, Middle Eastern, Pacific Islander, First Nations, Bi-racial, Multi-racial, Indigenous Australian, South Asian, Mediterranean.

Gender Identity
88% Female
11% Male
1% Other
Age
62% of respondents were 54 and older.
The age bracket with the highest response rate was 54-64, with 65 and over the next highest.
About 5% of respondents were under 35.
Range of abstinence
85% of those taking survey were currently abstinent from addictive eating.
22% Less than 12 months
18% 1 to less than 3 years
13% 3 to less than 5 years
11% 5 to less than 7 years
10% 7 to less than 9 years
8% 9 to less than 11 years
5% 11 to less than 13 years
4% 13 to less than 15 years
7% 15 years or more
2% no answer
Mean = 5.6 Years / Median = 4.0 Years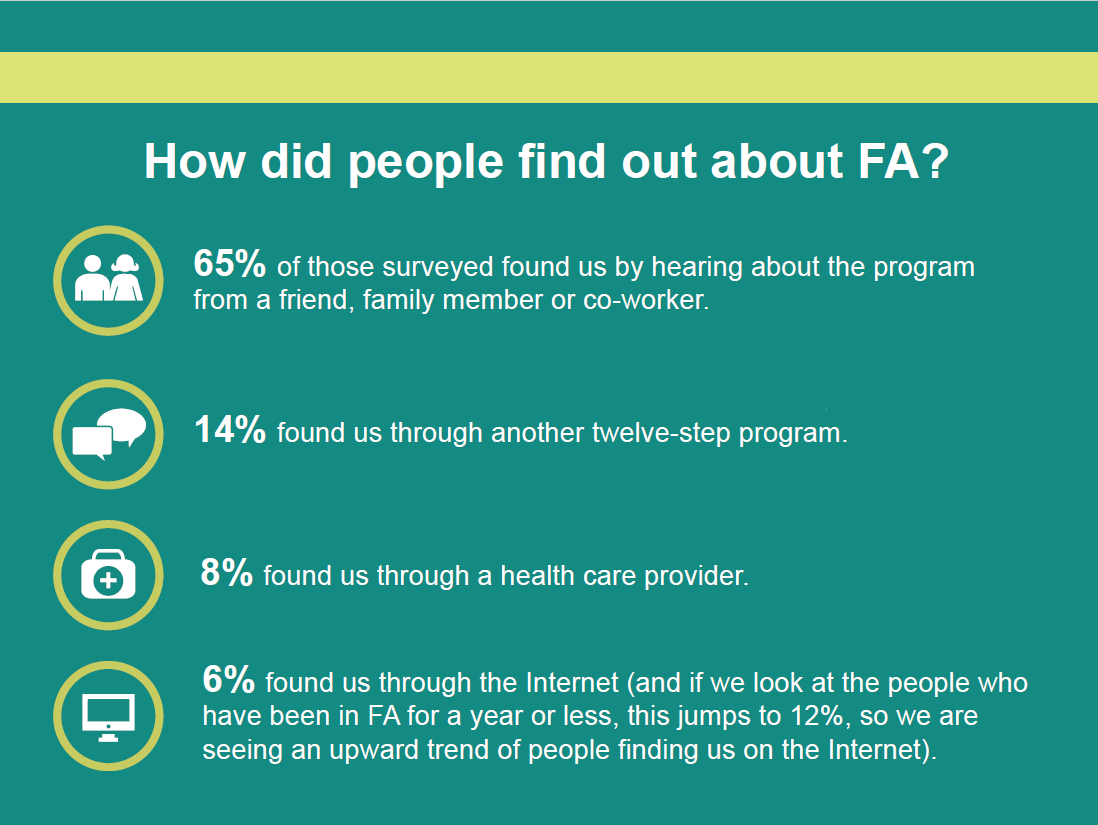 How did people find out about FA?
65% of those surveyed found us by hearing about the program from a friend, family member or co-worker.
14% found us through another twelve-step program.
8% found us through a health care provider.
6% found us through the Internet (and if we look at the people who have been in FA for a year or less, this jumps to 12%, so we are seeing an upward trend of people finding us on the Internet).
Some of the issues FA successfully addressed include:
Obesity
Emotional Eating
Yo-yo dieting
Bulimia / Vomiting
Compulsive Dieting
Restrict Food Intake
Being Overweight
Body Image Obsession
Laxative Abuse
Over-exercise
Bingeing
Eating in Secret

For many respondents, weight reduction was one of the benefits of FA recovery.
92% reported weight loss from the time they joined FA
85% reported a weight loss of 20 lbs / 9 kg or more
52% reported a weight loss of 50 lbs / 23 kg or more
16% reported a weight loss of 100 lbs / 45 kg or more
Of those reporting they had weight to lose or gain, 40% reported currently being at their goal. Of these...
83% had maintained that weight for over one year
64% had maintained that weight for over three years

Survey Respondents Reporting Health Improvements
98% Mental Health Issues (n=3862)
92% Cardiovascular/Circulatory Problems (n=2917)
91% Gastrointestinal/Liver Problems (n=2593)
90% Respiratory problems (n=1513)
88% Musculoskeletal Problems (n=3230)
88% Foot Problems (n=949)
82% Sleep-Related Problems (n=2978)
82% Headaches/Migraines (n=1339)
63% Urological Problems (n=1227)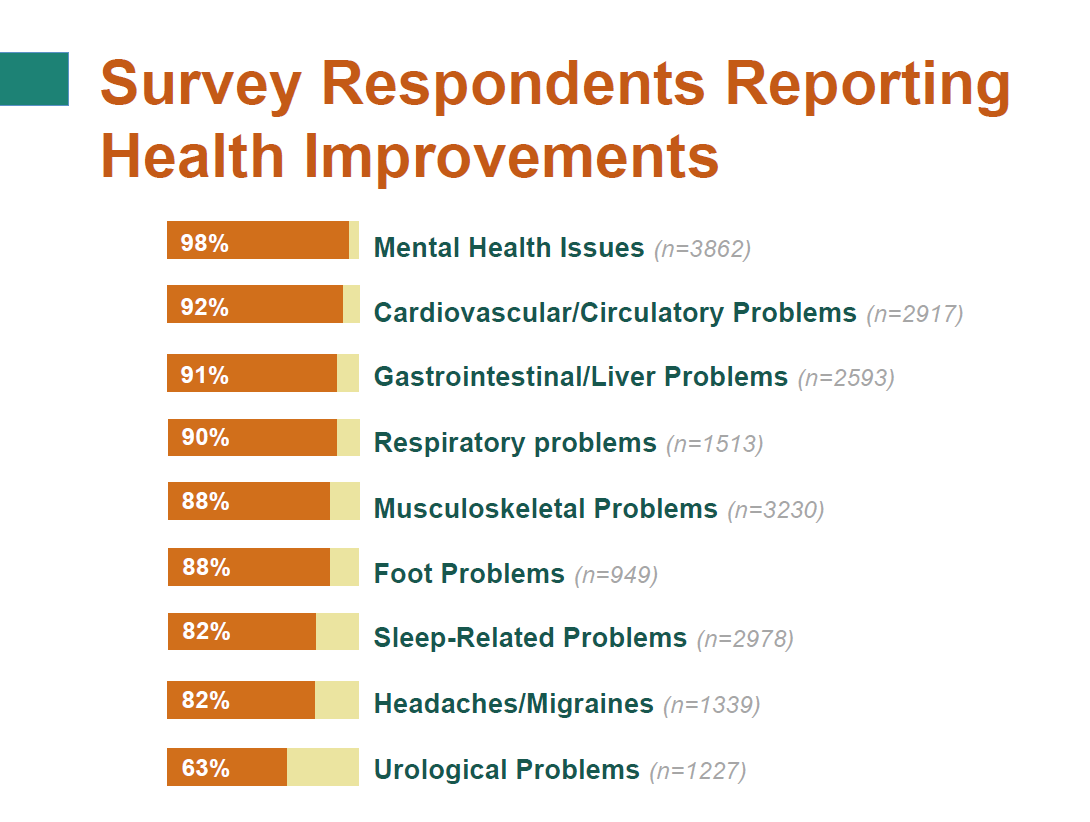 Of those who had previous health problems, 46% reported that they had a health issue that had completely resolved in their time in FA. The most common categories for this were endocrine, gastrointestinal, and cardiovascular.
Prediabetes
93% reported improvements (n=1062)
48% reported their symptoms resolved (n=1062)
Type 2 Diabetes
94% reported improvements (n=630)
40% reported their symptoms resolved (n=630)
Members were asked if they were able to reduce or discontinue medications with the help of their physicians, due to no longer needing them. "Yes" responses included:
32% for hypertension
27% for depression
20% for cholesterol
18% for anxiety
13% for sleep
13% oral medication for diabetes
5% insulin for diabetes
Long term members' daily use of FA Tools
99% eating abstinently
87% Reading the 24 Hours a Day book
86% 30 minutes of quiet time
78% Reading the AA Big Book
67% 3 phone conversations with FA members
42% Writing
Quality of Life Benefits
93% are more hopeful about their weight
88% report a better spiritual life
83% remained abstinent through difficulties such as job loss or illness
Over 80% have more fulfilling relationships, more stability and/or better stress management
71% reduced other addictive behaviors
Over 50% have healthier exercise habits and/or better overall hygiene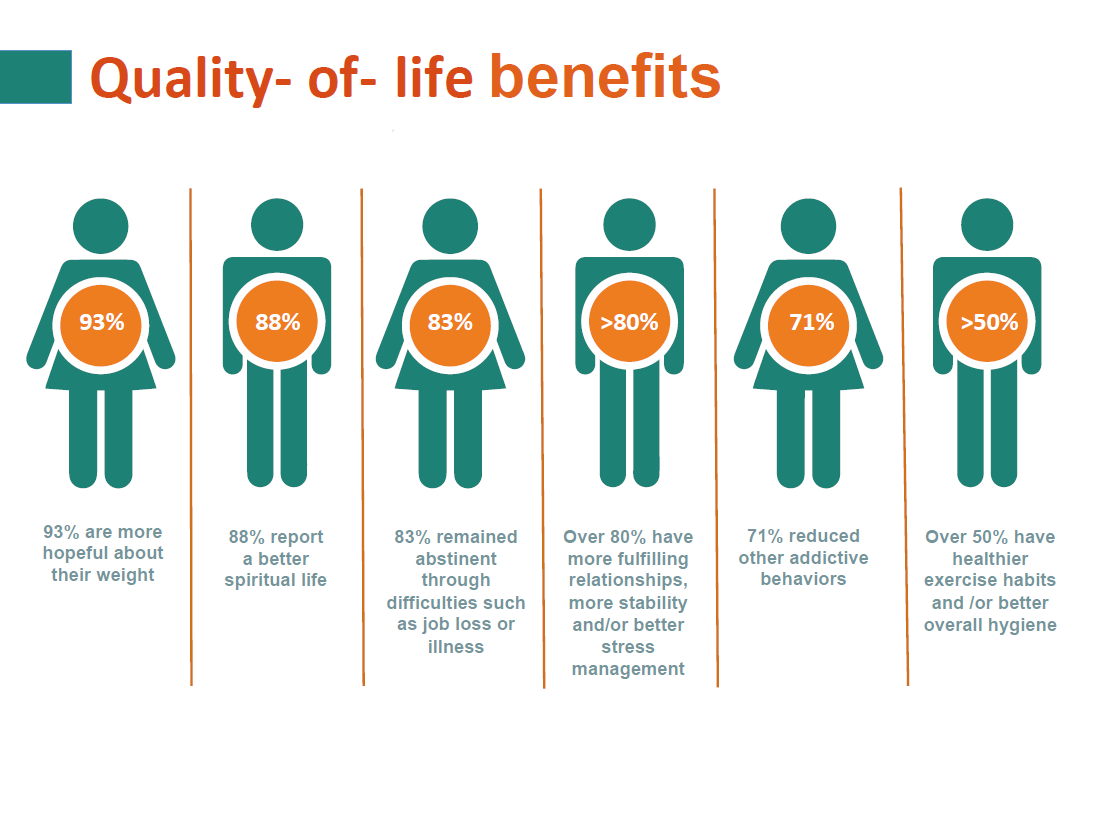 Related links:
92% of survey respondenta reported weight loss
98% reported improvement in Mental Health
94% of those with Type 2 Diabetes reported improvement