Are you having trouble controlling the way you eat?
---
Are you underweight? Overweight? Obsessed with food, weight, or dieting? Today, there is a solution.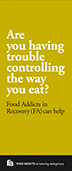 This tri-fold brochure addresses the very basic questions: "Am I a food addict?", "What's FA about and does it work?" and, "How do I get more information or find a meeting in my area?"